Charles Darwin arrives in Sydney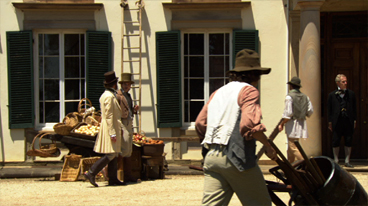 How to Download the Video Clip
To download a free copy of this Video Clip choose from the options below. These require the free Quicktime Player.

Premium MP4 sydney1836_pr.mp4 (11.1MB).

Broadband MP4 sydney1836_bb.mp4 (5.2MB), suitable for iPods and computer downloads.
Charles Darwin arrives in Sydney is an excerpt from the television documentary series, Darwin's Brave New World, produced in 2009.
Darwin's Brave New World
A 3 × 1 hour drama-documentary series about how the Southern Hemisphere gave birth to the most controversial idea in science: evolution by means of natural selection. Interweaving dramatic reconstruction with documentary actuality and moving between the 19th century and the 21st, this series is the story of how Charles Darwin's 'dangerous idea' developed during his epic voyage through South America, Australia, New Zealand and the Pacific Islands and how that idea forever transformed society and science. Darwin's Brave New World is a Film Australia, Beckers Group, Ferns Productions co-production.
Background Information
top
The Australian National Maritime Museum presented the exhibition, Charles Darwin — voyages and ideas that shook the world, on the 200th anniversary year of Charles Darwin's birth and 150 years after the publication of his famous evolutionary theory On the Origin of Species.
At the age of 22 Charles Darwin seemed destined to become a clergyman when in 1831 he was given an opportunity to sail to South America on the small survey vessel HMS Beagle. The five year voyage exposed the young Darwin to the stunning nature of the world, triggering ideas that would come to explain the origin of life on earth and shake society to its core. The Beagle voyage proved the seminal event in Charles Darwin's career, setting him on a path to become the most famous naturalist of the modern era.
Darwin's account of the Beagle voyage inspired other naturalists to join survey expeditions exploring the world. Two of these, Joseph Hooker and Thomas Huxley were influenced by their experiences in Australia and went on to become Darwin's staunchest supporters during the evolution debate and pivotal figures in the world of 19th century science.
Following up a 'big idea'
Research to find out how people reacted to Darwin's ideas, and how they changed the way many people thought about the origins of the world.
Nora Barlow (ed), The autobiography of Charles Darwin 1809-1882, New York, WW Norton & Company, 2005
Charles Darwin, Voyage of the Beagle, London. Penguin, 1989
F.W. Nicholas and J.M. Nicholas, Charles Darwin in Australia, Port Melbourne, Cambridge University Press, 2002
Iain McCalman & Nigel Erskine (eds), In the wake of the Beagle: science in the southern oceans from the age of Darwin, Sydney, UNSW Press, 2009
Iain McCalman, Darwin's armada: how four voyagers to Australasia won the battle for evolution and changed the world, 
Sydney, Viking, 2009
David Quammen (ed), Charles Darwin: On the origin of species, illustrated edition, New York, Sterling, 2008
Julie Simpkin (ed), Charles Darwin: An Australian Selection, Canberra, National Museum of Australia Press, 2008
The Complete Work of Charles Darwin Online
Natural History Museum – Darwin200
American Museum of Natural History – Darwin