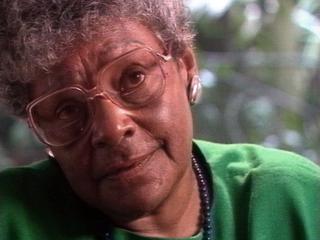 How to Download the Video Clip
To download a free copy of this Video Clip choose from the options below. These require the free Quicktime Player.

Premium MP4 bandact_pr.mp4 (9.2MB).

Broadband MP4 bandact_bb.mp4 (4.4MB), suitable for iPods and computer downloads.
Faith Bandler – Activist is an excerpt from the program Faith Bandler (26 mins), an episode of Australian Biography Series 2 (7×26 mins), produced in 1993.
Faith Bandler: Born in NSW in 1920, Faith Bandler is a descendant of South Sea Islanders. During the 1950s, she became involved in the peace movement, and in 1956 was instrumental in setting up the Australian Aboriginal Fellowship. In 1974, Faith decided to direct her energies to the 16,000 descendants of South Sea Islanders and, in 1975, made her first emotional journey to her father's birthplace on Ambrym.
Australian Biography Series 2: The Australian Biography series profiles some of the most extraordinary Australians of our time. Many have had a major impact on the nation's cultural, political and social life. All are remarkable and inspiring people who have reached a stage in their lives where they can look back and reflect. Through revealing in-depth interviews, they share their stories – of beginnings and challenges, landmarks and turning points. In so doing, they provide us with an invaluable archival record and a unique perspective on the roads we, as a country, have travelled.
Australian Biography Series 2 is a Film Australia National Interest Program.
By viewing this video clip, students have the opportunity to examine how social and cultural changes within Australia are connected to the actions of people, such as Faith Bandler. They will be able to:
critique government policy towards Indigenous people
identify the role of Faith Bandler in realising change to Indigenous people's rights
draw conclusions on the impact of civic action on affecting change to Indigenous people's rights over time
reflect on perspectives towards Indigenous people's rights
For further information please consult Queensland Curriculum Assessment and Reporting Framework's SOSE Essential Learnings and Standards
Background Information
top
Faith Bandler is a descendant of South Sea Islanders. At the age of 13, her father was kidnapped from the island of Ambrym, in what is known as Vanuatu, and brought to Australia to work as an unpaid labourer in the Queensland cane fields.
Faith Bandler is most well known for promoting the rights and interests of Indigenous Australians. This involvement as an activist first started when she co-founded the Aboriginal Australian Fellowship in 1956. This group led the campaign to abolish the NSW state government-controlled Aborigines Welfare Board, originally as the Aborigines Protection Board in 1883. Through the powers granted to this Board, Indigenous children were separated from their families and sent to missions, schools, farm stations and reservations. These children are some of those now known as the 'Stolen Generations'.
With the exception of Tasmania, each state and territory had similar boards. While their powers to remove Indigenous children differed, the effects were very much the same. The NSW Board was eventually abolished in 1969 after several campaigns.
The removal of their children was just one of many discriminatory practices that impacted on Indigenous people. Other inequalities included unequal pay, no recognition of land rights, racial prejudice and unequal citizenship rights. Under the Australian Constitution, the federal government had no power to make laws relating to Indigenous people. This was left to the state and territory governments, each with their different laws, policies and prejudices.
From 1957, Bandler was instrumental in the Federal Council for the Advancement of Aborigines and Torres Strait Islanders' campaign for a national referendum to change the Constitution. There were two main changes requested. First, that Indigenous people be included in future national censuses. Secondly, that the federal government be granted powers to legislate for Indigenous people. The vast majority of voters accepted these changes in 1967. The referendum was a significant step towards addressing some of the inequalities and discrimination experienced by Indigenous people.
In 1974, Faith decided to direct her energies to the plight of her own people, the 16,000 descendants of South Sea Islanders. She founded the National Commission for Australian South Sea Islanders and, in 1975, made her first emotional journey to her father's birthplace on Ambrym.
This interview with Faith Bandler involves Faith sharing her thoughts on a significant period of Australian history. To build an understanding of Faith's contribution to Indigenous people's rights, identify the following:

What is the setting of the interview?
What period of time is the interview set in?
What is the mood of the interviewee?
What event does the interview focus on?
What was the contribution of Faith to this event?
Who does Faith Bandler credit as being a major influence on her life?
Why do you think Faith Bandler was a subject for the series Australian biography?

Faith describes government policy and its effect on Aboriginal people in New South Wales in the 1950s. Consider the following:

Who controlled Aboriginal people's lives and rights? Why?
How did government policy affect Aboriginal people's lives?
Who had the greater control over most Aboriginal people's lives and rights – State governments or the Commonwealth Government?
How were Aboriginal people treated differently to other Australians?
Why do you think the situation existed that not all Australian citizens had equal rights?
Why was a change in government policy and community perceptions so important to addressing Aboriginal people's lives and rights?

Faith talks about the forms of civic action employed by the Australian Aboriginal Fellowship to bring about change, namely:
Petitions
March in the May Day rally
Platcards and posters
How and why were these forms of civic action used? Are they still effective now in bringing about change?
What other forms of civic action would be used today?
See Australia in the 1950s section of the National Museum of Australia website:
See Student Investigation Indigenous and Human Rights on the Civics and Citizenship Education website which aims to promotes consideration of the existence of the rights of Indigenous peoples within Australian democracy, and to see these rights as coexisting simultaneously with citizenship rights but as unique to Indigenous peoples.
See "1967 Referendum and Indigenous Australians' rights", IN Studies of Society and Environment, Issues 1 & 2 2007, published by Ryebuck Media distributed to all secondary school libraries.