Broadcasts in cyberspace
Video clip synopsis
– Trevor Barr contrasts the privileged access to public television broadcasts with the free information exchange on the Internet. Stephen Mayne celebrates the value of ABC Online as a national resource and describes how activists have used the Internet to successfully broadcast their alternative views.
Year of production -
2005
Duration -
3min 4sec
Tags -
broadcasting
,
design
,
emerging technologies
,
innovation
,
Internet
,
media convergence
,
podcasts
,
technology
,
technology and society
,
webcasts
,
see all tags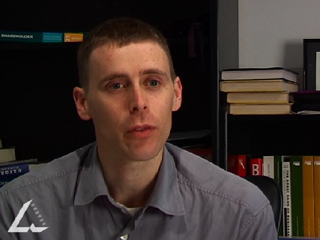 How to Download the Video Clip
To download a free copy of this Video Clip choose from the options below. These require the free Quicktime Player.

Premium MP4 cyberspace_pr.mp4 (22.6MB).

Broadband MP4 cyberspace_bb.mp4 (10.7MB), suitable for iPods and computer downloads.
These interviews with Trevor Barr and Stephen Mayne were recorded for the website From Wireless to Web, produced in 2005.
Trevor Barr is an author, professor and the Director of Creative Industries Research & Applications Centre at the Queensland University of Technology. Stephen Mayne was the founder and editor of independent news service crikey.com. You can view their full biographies at From Wireless to Web
The website is a selective history of broadcast media in Australia. Decade by decade, from radio and newsreels to TV and the internet, this history shows how the Australian broadcast media developed and shaped the way Australians see themselves.
From Wireless to Web is a Film Australia production in association with Roar Film.
This Digital Resource can be used to achieve some of the outcomes of the NSW Stage 4 Technology (Mandatory) syllabus, specifically the following outcomes:
A student
4.1.2: describes factors influencing design in the areas of study of Built Environments, Products, and Information and Communications.
4.4.1: explains the impact of innovation and emerging technologies on society and the environment.
4.6.2: identifies and explains ethical, social, environmental and sustainability considerations related to design projects.
This material is an extract. Teachers and students should consult the Board of Studies website for more information.
Background Information
top
Anyone with access to the Internet can become an author and 'broadcast' ideas and opinions in a way that was never possible with the traditional media, especially the established broadcast media.
Traditional broadcast media audiences – radio listeners and television viewers – experience 'the message' as something delivered to them in finished form – in effect, a message 'done to them'. Now, by accessing the Internet, users can interact with 'messages' by commenting, submitting feedback, engaging in a meaningful way with 'the message'. Most significantly, internet users can create their own 'messages' for 'broadcast'. This radically changes the established order of things, the 'top-down' model of communication that has dominated traditional broadcasting for more than 80 years.
This new form of broadcast is a powerful tool that can be transmitted from a computer, mobile phone or PDA (personal device application) like a Palm Pilot or iPod. A message could include text (email, SMS or text file), images or moving pictures (video or animation), and audio. Messages in cyberspace can be accessed a number of ways, including via the Web (at a website), or by video stream, webcast or podcast.
The advent of technology such as iTunes and emergence of websites such as YouTube.com have enabled users to post video clips on the Internet. The convergence of technology, intuitive video editing software such as Apple's iMovie HD and Pinnacle's Studio DV allows for the seamless development of video-ready material for iPods and podcasting on the web.

Research the hardware and software necessary to develop your own audio and/or video broadcast.
Technical issues aside, what are the creative barriers that impede more people from becoming content developers/providers?

Explain why the issue of copyright and digital rights management are crucial for artists and performers.
Go to the Apple Podcasting website and using the Podcaster Tech Specs as a guide, create a podcast.