The Australian Surrealists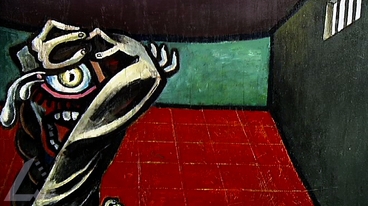 How to Download the Video Clip
To download a free copy of this Video Clip choose from the options below. These require the free Quicktime Player.

Premium MP4 hidden5_pr.mp4 (36.9MB).

Broadband MP4 hidden5_bb.mp4 (17.4MB), suitable for iPods and computer downloads.
The Australian Surrealists is an episode of the series Hidden Treasures (15 × 5 mins) produced in 2006.
The National Gallery of Australia has more than 100,000 works in its collection—an extraordinary reservoir of creative vision and cultural history, from decorative arts to photography and sculpture.
Yet on a visit to the gallery, you'll see only the tip of this iceberg. Carefully stored away are the things that can't be placed on permanent display.
These unseen gems include works of exquisite fragility, from brilliant hand-painted fabrics to delicate works on paper. From Australia, the Americas, Africa, Asia, Europe, the Middle East and Oceania, there are masks and carvings, lithographs and linocuts, set designs and stage costumes, sketchpads and handprinted books, marionettes and maquettes, teapots and textiles, and much, much more.
Now in this series of micro-docs, former director of the gallery Betty Churcher presents an insider's guide to some of these 'hidden treasures'.
In the entertaining, accessible style for which she is renowned, Betty Churcher takes us behind the scenes, sharing with us her passion and insights. From her unique vantage point, she makes intriguing connections between a range of different objects and artists, linking them to the stories that surround them.
These are fascinating tales—about the works themselves, the people who created them and the challenge of preserving them—and a tantalising look at some of the ideas and influences that have shaped modern art across the globe.
A Film Australia National Interest Program in association with Early Works. Produced with the assistance of the Australian Broadcasting Corporation.
Full program credits
Students observe, research and critically discuss a range of contemporary, traditional, stylistic, historical and cultural examples of artworks. They analyse, interpret, compare and evaluate the stylistic, technical, expressive and aesthetic features of art works created by a range of artists and made in particular times and cultural contexts. They use appropriate arts language and, in the arts works they are exploring and responding to, refer to specific examples. They comment on the impact of arts works, forms and practices on other artworks and society in general.
This material is an extract. Teachers and Students should consult the Victoria Curriculum and Assessment Authority website for more information.
Background Information
top
During the Second World War and immediately after, a group of talented young Australians drew on the 'dream' imagery of European surrealism to express their disquiet at world events. In so doing, they produced Australia's first dynamic contribution to modern art in the western world.
In 1940, James Gleeson wrote, 'Surrealism comes from the deeper recesses of the mind that the logical mind, with its prescribed formulas of thought is incapable of exploring.' His work The Citadel is the stuff of nightmares—a psychological landscape where flesh, internal organs and rock are interchangeable.
By manipulating several photographic negatives, Max Dupain created composite images with strange juxtapositions and sexual overtones, where the body is a landscape and the landscape is a body.
In London in the early 1930s, James Cant responded to an advertisement to take part in a clinical trial of the effects of the hallucinatory drug, mescalin. He found the drug produced visions more intense than any dream he'd had. Although not painted under its influence, Returning Volunteer is a nightmare vision of desolation and despair.
Albert Tucker had direct experience of war when he served as a conscript at a military hospital. There he saw not only bodies torn apart by shells but also the shellshocked. In Death of an Aviator he turns a dead man's head into a surreal landscape. In Possessed he tries to get inside the skin of a shellshocked victim; he wants us to understand how it feels.
Sidney Nolan, however, stood apart from his contemporaries. He'd been as drawn to poetry as he had to the visual arts so when he experimented with surrealism, he was more interested in the poetry of chance than he was in bizarre dream images. Among the ephemeral and fragile works in the National Gallery of Australia's collection is his Secret Life of Birds —a flowering tree made from a twig and the soft, pink and white feathers of a galah.
Analyse and discuss the elements of fantasy and the evidence of imagination in the artworks of James Gleeson and Max Dupain.
Select one of James Gleeson's artworks. Describe the image. What appears to be happening in the artwork? What mood do the colours convey? From the contents of the artwork, write a story.
Look at Rene Magritte's The Blank Signature; using this as a reference piece, create a surreal seascape, landscape or cityscape in which the positive shapes and negative spaces are interwoven into a reversal of the visible and invisible.

Use colours in the realist scene that are different from and contrast with the colours of the dividing scene.
Place a piece of tracing paper over the realist composition and sketch the second drawing into which you will weave the first choice.
Decide which scene will be visible in each area, and transfer to your final drawing.

Draw something that does not exist in the real world. Examples may be everyday objects with human form, or animals with mechanical parts.
Combine parts (human, animal and mechanical) cut from magazines to create a surreal image.
Use the image created to write a short surrealist poem OR write the poem first and then use it as the basis for an artwork.