Cuc Lam's Suitcase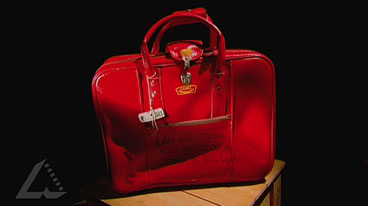 How to Download the Video Clip
To download a free copy of this Video Clip choose from the options below. These require the free Quicktime Player.

Premium MP4 cuclamss_pr.mp4 (35.1MB).

Broadband MP4 cuclamss_bb.mp4 (16.5MB), suitable for iPods and computer downloads.
Cuc Lam's Suitcase is an episode of the series National Treasures produced in 2004.
Cuc Lam's Suitcase
If you were forced to leave your home forever, what would you take with you? Vietnamese refugee Cuc Lam took family photos and jewellery but sacrificed one precious possession to buy a suitcase, now in Melbourne's Immigration Museum. Cuc Lam talks to Warren Brown about her journey to Australia and how this small red vinyl bag was a symbol of a new beginning in a new country.
National Treasures
Take a road-trip of discovery with the irrepressible Warren Brown – political cartoonist, columnist and history "tragic" – as he reveals a fascinating mix of national treasures drawn from public and private collections across Australia. On its own, each treasure is a priceless snapshot of an historic moment. Together, they illustrate the vitality and uniqueness of the Australian experience.
National Treasures is a Film Australia National Interest Program. Produced with the assistance of the Australian Broadcasting Corporation.
Students examine the development of multiculturalism in Australia and explore ways in which government policies, including immigration and Aboriginal and Torres Strait Islander policies have changed over time.
Background Information
top
By 1954, after the defeat of the Japanese and the expulsion of the French in the north, Vietnam was divided into communist North Vietnam and pro-western South Vietnam. The failure of a proposed vote on reunification led to war, which the north won in 1975.
The new national government sent many people who had supported the old government in the south to 're-education camps', and others to 'new economic zones', where they were treated badly. These factors, coupled with poverty caused by disastrous economic reforms, caused millions of Vietnamese to flee the country, usually by barely sea-worthy boats.
These fleeing Vietnamese sold what they could for gold, and took only what they could carry with them. Pirates who raped, murdered and stole almost at will against the defenceless refugees preyed on them. Many ships sank, with the loss of all aboard.
Refugees who did survive had to stay in primitive camps in Malaysia, Thailand, the Philippines, Hong Kong, and Indonesia.
The plight of the boat people now became an international humanitarian crisis. Several countries agreed to resettle as many as possible of the refugees, and agreed to quotas — the United States of America (823 000), Australia and Canada (137 000 each), France (96 000), and Germany and the United Kingdom (19 000 each).
Before 1975 there were approximately 700 Vietnam-born people in Australia. A few refugee boats had reached northern Australia, but most of the Vietnamese refugee resettlement between 1975 and 1985 was by air from the refugee camps in Asia, and was then followed by family reunion under the Family Stream of Australia's immigration program. By 1981, 43 400 Vietnamese had been resettled in Australia. By 1991 there were 124 800 Vietnam-born in Australia and in the 2001 census, 154 000 people declared themselves as Vietnam-born.
1. Using the class as a 'typical' cohort investigate the ethnic origins of the students and, if necessary, use a world map to locate places of origin. Broaden the investigation by using the internet and other sources, for example, ABS data, to build up a picture of Australia's demography. How 'typical' is the class data compared to the Australia-wide data?
2. Australia has often been described as a 'multicultural' country. Ask students to discuss what they think this means.
3. Using the video clip, locate and discuss the journey of Cuc Lam. List the items she carried in her suitcase. What do these items suggest about her beliefs and values? How 'useful' do you think the items might be on her arrival in Australia?
4. Bring a suitcase in to class. Ask students to reflect about the items they would bring with them if they were to leave, probably permanently, Australia for another country. Ask students to collect their items and to bring them to class, where they would be asked to place their items in the suitcase and to discuss their choice of items. Go to Global Express to see what modern refugees do take.
5. The use of the word 'multiculturalism' by some prominent Australians has recently been reported in the media. Using the internet and other sources,including the six hat strategy, investigate the debate and construct a table of the people who are engaged in the debate, the arguments being used for and against the use of the word 'multiculturalism' and why these people might be making their arguments. Finally ask students to write their opinion about the deabte of the use of the word multiculturalism.