Working on television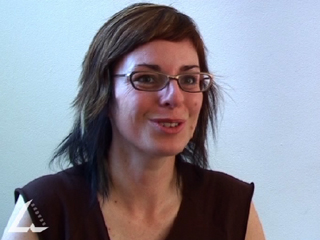 How to Download the Video Clip
To download a free copy of this Video Clip choose from the options below. These require the free Quicktime Player.

Premium MP4 television_pr.mp4 (11.7MB).

Broadband MP4 television_bb.mp4 (5.5MB), suitable for iPods and computer downloads.
The interviews with Megan Spencer and Mac Gudgeon were recorded for the website From Wireless to Web, produced in 2005.
Megan Spencer is a film critic, reporter and filmmaker. Mac Gudgeon is a screenwriter and a community television advocate. You can view their full biographies at From Wireless to Web
The website is a selective history of broadcast media in Australia. Decade by decade, from radio and newsreels to TV and the internet, this history shows how the Australian broadcast media developed and shaped the way Australians see themselves.
From Wireless to Web is a Film Australia production in association with Roar Film.
Background Information
top
On 16 September 1956 the test pattern on Sydney's TCN9 gave way to a grainy black-and-white image of presenter Bruce Gyngell speaking the first words uttered on Australian television: "Good evening ladies and gentlemen, welcome to television". (O'Regan)
The Broadcasting and Television Act (1953) stated that "licensees shall, as far as possible, use the services of Australians in the production and presentation of radio and television programs". At first, television was broadcast for only 22 hours each week. Local content for television was mostly low-cost variety and quiz shows.
HSV7 Melbourne and ABC-TV went to air in time for the November 1956 Melbourne Olympics. Other stations followed over two years: in Brisbane (QTQ and BTQ), Adelaide (ADS and NWS), Perth (TVW) and Hobart (TVT).
The ABC's television service in Sydney (ABN2) launched in 1956 with a news bulletin read by James Dibble. Dibble continued as the ABC's newsreader until 1983.
Critical and Historical study
Mac Gudgeon states that within a television episode it has to have written into the script a dramatic high point every six minutes. Why every six minutes? What is the governing influence that shapes the practice of writing a script for television?
A verse from the song The Revolution Will Not Be Televised written by Gil Scott Heron, states "television, drug of the nation, breeding ignorance …". Set up a debate on the topic that television has improved the quality of information broadcast to the public, not detracted from it.
What is the difference between analogue and digital television?