Life Savers on Bondi Beach
Video clip synopsis
– Early morning at an almost empty Bondi Beach. Rubbish is removed by local council workers and volunteer lifesavers check their gear, allocate safe surfing areas, and practise their lifesaving skills.
Year of production -
1965
Duration -
1min 33sec
Tags -
icons
,
volunteers
,
see all tags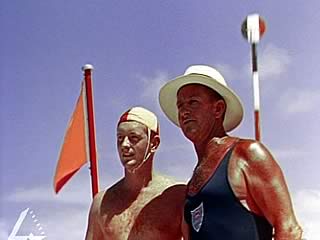 How to Download the Video Clip
To download a free copy of this Video Clip choose from the options below. These require the free Quicktime Player.

Premium MP4 surf_pr.mp4 (11.4MB).

Broadband MP4 surf_bb.mp4 (5.4MB), suitable for iPods and computer downloads.

You can buy this clip on a compilation DVD.
Life Savers on Bondi Beach is an excerpt from the film Surf Beach (18 mins), produced in 1965.
Surf Beach: A summer day on the beach in Sydney. Beginning and ending at Bondi, this film captures the essence of Australian beach life – the bodysurfers, boardriders, sunbakers, families, tourists and, of course, those iconic Aussie lifesavers.
Surf Beach is a National Film Board Production. Produced by the Commonwealth Film Unit.
Reading standard: Students read and view imaginative, informative and persuasive texts that explore ideas and information relate to challenging topics, themes and issues. They explore the ideas, themes and issues explored in these texts, and provide supporting evidence to justify their interpretations. They produce personal responses, for example, interpretive pieces and character profiles.
Writing standard: Students produce, in print and electronic forms, texts for a variety of purposes, including speculating, hypothesizing, persuading and reflecting.
Speaking and listening standard: Students express creative and analytical responses to texts, themes and issues. They identify main issues in a topic and provide supporting detail and evidence of opinions.
The activities in this learning module are relevant to the Interdisciplinary Learning strand of Level 5 Communications (Listening, viewing and responding standard; Presenting standard) and Thinking Processes (Reasoning, processing and inquiry standard; Creativity standard).
The activities are also relevant to the Physical, personal and Social Learning strand of Level 5 Interpersonal Development (Building social relationships standard; Working in teams standard) and Personal Learning (The individual learner standard; Managing personal learning Standard).
This material is an extract. Teachers and Students should consult the Victoria Curriculum and Assessment Authority website for more information.
Background Information
top
Bondi Beach in Sydney is one of Australia's most famous beaches. The beach, roughly a kilometre long, is enclosed at the north and south by headlands. Every day of the year lifesavers patrol the beach between the yellow and red flags. They are volunteer workers.
In summer it is very crowded. The beach also attracts a lot of tourists. Sometimes tourists don't understand the meaning of the flags. Nor do they realise there are dangerous currents and rips where the flags are not placed. Other swimmers may be aware that the beach has dangerous currents but they do not know how to read the sea and manage the situation if they get swept out suddenly by a rip. Bondi Beach needs its surf lifesaver patrol.
It is also a beach area where music, arts and sporting activities occur, especially in the summer months.
People are always seen jogging along the beach throughout the year. Bondi Beach is also the home of the Bondi Icebergs, an elderly group who swim in the sea pool every day including winter.
List all the jobs and training lifesavers do.
Lifesavers are volunteers. Give reasons why you think they undertake this work.
An 'icon' is an object, image or figure that represents something special or sacred. Bondi Beach is sometimes considered to be a Sydney icon. Write a brief explanation of why it might be considered an icon.

Carry out a survey in your class of who is a 'volunteer', or has someone in their family who volunteers.
Discuss and five list points for each of the following questions; Why do people volunteer? Who benefits from volunteers? What qualities do people who vounteer need to have?

Choose a person, place or thing in Victoria that is considered to be an icon. Write a 350-word letter or email to a friend overseas in which you describe what this icon is, why it is considered an icon and what it means to Victorians.
Draw up a table with two columns headed, 'Beach then' and 'Beach now'.
Brainstorm and fill in the first column withevidence fromthe video clip.
Fill in the 'Beach now' column using your own knowledge.
Underneath the columns, list five points describing how people's behaviour and attitude towards the beach has changed.