Waltzing Matilda Song Sheet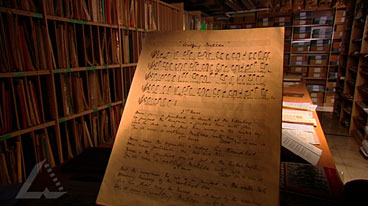 How to Download the Video Clip
To download a free copy of this Video Clip choose from the options below. These require the free Quicktime Player.

Premium MP4 waltzing_pr.mp4 (36.9MB).

Broadband MP4 waltzing_bb.mp4 (17.4MB), suitable for iPods and computer downloads.
Waltzing Matilda is an episode of the series National Treasures produced in 2004.
Waltzing Matilda
Most Australians know that Banjo Paterson wrote the lyrics to Waltzing Matilda but who wrote the music? And what does it have to do with a rather oddly titled song called Go to the Devil and Shake Yourself? Warren Brown tracks down the original handwritten score at the National Library of Australia, where curator Robyn Holmes reveals the story behind the chance collaboration that created our national song.
National Treasures
Take a road-trip of discovery with the irrepressible Warren Brown – political cartoonist, columnist and history "tragic" – as he reveals a fascinating mix of national treasures drawn from public and private collections across Australia. On its own, each treasure is a priceless snapshot of an historic moment. Together, they illustrate the vitality and uniqueness of the Australian experience.
National Treasures is a Film Australia National Interest Program. Produced with the assistance of the Australian Broadcasting Corporation.
Dimension:
Speaking and listening
Standards:
Students analyse critically the relationship between texts, contexts,
speakers and listeners in a range of situations. They draw on a range of strategies to listen to and present spoken texts.
This material is an extract. Teachers and Students should consult the Victoria Curriculum and Assessment Authority website for more information.
Background Information
top
Waltzing Matilda is Australia's most widely known traditional song.
Banjo Paterson wrote the words during a visit to a Queensland property, Dagworth, in 1895.
The words may refer to an incident the previous year, when striking shearers burned down the Dagworth shearing shed. The owner of Dagworth station and three police chased a man named Samuel Hoffmeister, who shot and killed himself at the Combo waterhole rather than be captured.
The origin of the music is less certain. Christina Macpherson first played it on the piano at Dagworth. She later claimed to have remembered hearing a song Thou Bonnie Wood of Craiglea a few months earlier at a race meeting. However, there is little actual similarity between the music on the score that she produced and 'Craiglea'. That tune was itself possibly based on a tune called Go to the Devil and Shake Yourself, and also sometimes called The Penniless Traveller or When Sick is it Tea You Want?.
The first published version of the music, produced in 1903, used a different tune — the one we identify with the song today. This is the Marie Cowan version. This version is, however, similar to a much older song called The Gay Fusilier, which Paterson may have heard during his time in South Africa, and brought back.
Another version dates from 1907, in Cloncurry.
The words are more certain, but also exist in several versions. We have Paterson's original words, but in 1903 Marie Cowan changed the words slightly to identify the song with a commercial brand of tea, 'Billy Tea'.
During the 1970s there was a popular vote to decide what would be Australia's national anthem to replace God Save The Queen. Advance Australia Fair won. For a short while Waltzing Matilda was Australia's national song, usually associated with sporting events, but now has no official status.
Understanding the video clip

What is Waltzing Matilda?
When was it created?
Who created it?
What was the origin of the music?
Why were these words created in this place at that time?
What is the political meaning behind the lyrics?

Exploring issues raised in the video clip
Look at the two versions of the words. You will find these in the

PDF

in the Further Resources section below.

Compare the two versions. Identify the words that have been changed. What is the effect or impact of these changes?
What is the message or meaning of Waltzing Matilda?
Many people have suggested that Waltzing Matilda should be Australia's national anthem. Do you think these words are suitable for an anthem? Explain your reasons.
Look at Australia's anthem, Advance Australia Fair. What is the message or meaning of those words. Do you think they are appropriate for an anthem? Explain your views.
Look at words of other popular anthems, particularly those of

USA

, Britain and France. What are the messages or meanings of those words. Do you think they are appropriate for anthems? Explain your views.
Look at the anthems of the most recent nations – such as South Africa and East Timor. What are these words trying to achieve?
Imagine that you have been asked to write the words for a new national anthem. It could be for Australia, or for another country. What meanings and messages do you want to put across? What attitudes and values do you want to come through? How do you encapsulate the essential and unique elements of the nation? Write your anthem.
You might work with music students to think about what style of music would be most appropriate for your anthem.