Faith Bandler - Activist
Video clip synopsis
– Civil rights activist Faith Bandler has made an enormous contribution to the peace movement and indigenous politics.
Year of production -
1993
Duration -
1min 15sec
Tags -
aborigines
,
Australian History
,
civics and citizenship
,
colonialism
,
discrimination
,
exploitation
,
human rights
,
identity
,
Indigenous Australia
,
inequality
,
politics
,
racism
,
referendum
,
self-determination
,
social justice
,
Stolen Generations
,
White Australia Policy
,
women
,
see all tags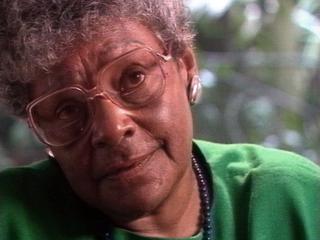 How to Download the Video Clip
To download a free copy of this Video Clip choose from the options below. These require the free Quicktime Player.

Premium MP4 bandact_pr.mp4 (9.2MB).

Broadband MP4 bandact_bb.mp4 (4.4MB), suitable for iPods and computer downloads.
Faith Bandler – Activist is an excerpt from the program Faith Bandler (26 mins), an episode of Australian Biography Series 2 (7×26 mins), produced in 1993.
Faith Bandler: Born in NSW in 1920, Faith Bandler is a descendant of South Sea Islanders. During the 1950s, she became involved in the peace movement, and in 1956 was instrumental in setting up the Australian Aboriginal Fellowship. In 1974, Faith decided to direct her energies to the 16,000 descendants of South Sea Islanders and, in 1975, made her first emotional journey to her father's birthplace on Ambrym.
Australian Biography Series 2: The Australian Biography series profiles some of the most extraordinary Australians of our time. Many have had a major impact on the nation's cultural, political and social life. All are remarkable and inspiring people who have reached a stage in their lives where they can look back and reflect. Through revealing in-depth interviews, they share their stories – of beginnings and challenges, landmarks and turning points. In so doing, they provide us with an invaluable archival record and a unique perspective on the roads we, as a country, have travelled.
Australian Biography Series 2 is a Film Australia National Interest Program.
Students will:
discuss and reflect upon the historical, political and contemporary importance and influence of Aboriginal rights activist and author, Faith Bandler, and the political organisations in which she was involved.
work collaboratively to research, plan and construct a media display of selective historical information.
present and interpret information, formatting and aiming it at a defined, specific audience, using computer tools and technology.
show an understanding, assess, analyse, critique and construct a presentation about the wider historical role played by an organisation relevant to the general topic of the video clip.
Background Information
top
Faith Bandler is a descendant of South Sea Islanders. At the age of 13, her father was kidnapped from the island of Ambrym, in what is known as Vanuatu, and brought to Australia to work as an unpaid labourer in the Queensland cane fields.
Faith Bandler is most well known for promoting the rights and interests of Indigenous Australians. This involvement as an activist first started when she co-founded the Aboriginal Australian Fellowship in 1956. This group led the campaign to abolish the NSW state government-controlled Aborigines Welfare Board, originally as the Aborigines Protection Board in 1883. Through the powers granted to this Board, Indigenous children were separated from their families and sent to missions, schools, farm stations and reservations. These children are some of those now known as the 'Stolen Generations'.
With the exception of Tasmania, each state and territory had similar boards. While their powers to remove Indigenous children differed, the effects were very much the same. The NSW Board was eventually abolished in 1969 after several campaigns.
The removal of their children was just one of many discriminatory practices that impacted on Indigenous people. Other inequalities included unequal pay, no recognition of land rights, racial prejudice and unequal citizenship rights. Under the Australian Constitution, the federal government had no power to make laws relating to Indigenous people. This was left to the state and territory governments, each with their different laws, policies and prejudices.
From 1957, Bandler was instrumental in the Federal Council for the Advancement of Aborigines and Torres Strait Islanders' campaign for a national referendum to change the Constitution. There were two main changes requested. First, that Indigenous people be included in future national censuses. Secondly, that the federal government be granted powers to legislate for Indigenous people. The vast majority of voters accepted these changes in 1967. The referendum was a significant step towards addressing some of the inequalities and discrimination experienced by Indigenous people.
In 1974, Faith decided to direct her energies to the plight of her own people, the 16,000 descendants of South Sea Islanders. She founded the National Commission for Australian South Sea Islanders and, in 1975, made her first emotional journey to her father's birthplace on Ambrym.
After viewing the video about Faith Bandler – Activist, discuss in class then write answers to the following:

Describe the purpose for the formation of the Aboriginal-Australian Fellowship in New South Wales.
Comment on the purpose of the New South Wales Aboriginal Welfare Board.
Define the meanings of "petition" and "referendum", and explain how these two words are important in understanding how the Aboriginal Welfare Board came to be removed in 1969.

In pairs carry out research then prepare an illustrated display poster about the history of the Aboriginal-Australian Fellowship, 1956–1969. Ensure you include references to why the

AAF

was formed, Faith Bandler, Pearl Gibbs, the

NSW

Aborigines Welfare Board, and the 1967 referendum to change the Australian Constitution in regard to indigenous Australians throughout each state and territory.
Carry out research then write a history-based biography for a magazine aimed at young readers about the life of Faith Bandler, concentrating on the importance, significance and long-term effects, or legacy, of her involvement in campaigning to improve the lives of indigenous Australians. Ensure you explain why she became a political activist and reformer. Add details about the books she wrote. Use desktop publishing software to format your presentation, and include photographs and other illustrations where applicable.
Prepare and write an argued, critical assessment of the role carried out by the

NSW

Aborigines Welfare Board until its removal in 1969. For example, was it deliberately and purposefully a racist body? Explain. Did it genuinely look after the welfare of indigenous people? (Aternatively, carry out this activity by researching and writing about your own state or territory's Board or equivalent body.)
Faith Bandler, Turning the Tide: A Personal History of the Federal Council For the Advancement of Aborigines and Torres Strait Islanders, Aboriginal Studies Press, Canberra, 1989
Faith Bandler and Len Fox, The Time was Ripe: A History of the Aboriginal-Australian Fellowship (1956–69), Alternative Publishing Cooperative, Chippendale, NSW, 1983
Marilyn Lake, Faith Bandler: Gentle Activist, Allen & Unwin, Sydney, 2003
Go to Faith Bandler 1
Go to Faith Bandler 2
Go to Pearl Gibbs
Go to Jessie Street
Go to 1967 Referendum
Go to Reconciliation Australia
Go to Review of Lake's biography of Bandler