The Photographer and the Painter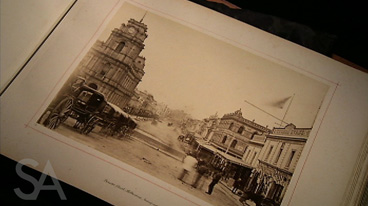 How to Download the Video Clip
To download a free copy of this Video Clip choose from the options below. These require the free Quicktime Player.

Premium MP4 photopainter_pr.mp4 (40.6MB).

Broadband MP4 photopainter_bb.mp4 (19.1MB), suitable for iPods and computer downloads.
From the series Hidden Treasures – Inside the National Library of Australia
The National Library of Australia is the country's largest reference library with over nine million items in its collection, including a surprising number of art works. In a new series of Hidden Treasures, Betty Churcher presents an insider's guide to some of the little known and rarely displayed art treasures held by the National Library. From her unique vantage point, Churcher makes intriguing historical connections between paintings and engravings, photography, manuscripts and artefacts, illustrated journals and diaries. These are fascinating tales about the creative process and the works themselves that offer a tantalising insight into Australia's culture and heritage.
A Film Australia National Interest Program in association with Early Works. Produced in association with the Australian Broadcasting Corporation. With special thanks to the National Library of Australia.
Dimension:
Historic knowledge and understanding
Historic reasoning and interpretation
In Level 6 History, students have the opportunity to
Develop skills in analysing and evaluating a range of primary and secondary sources.
Develop skills in critical inquiry.
Demonstrate their understanding of historical events in a variety of forms such as oral presentations, narratives, multimedia presentations and film.
Consider how the past is a great narrative of people's lives, events both trivial and major, ideas and ways of thinking.
Develop perspectives on our nation, our region and our world.
Enhance their historical skills by using a range of sources and the higher order thinking skills of reasoning and interpretation.
Actively engage with a number of key historical concepts.
Other Links to VELS
Physical, Personal and Social Learning
Interpersonal Development – working and learning in teams, values as social constructs, resolving conflicts
Personal learning – ethical considerations, manage own learning
Civics and Citizenship – Concepts of personal identity, knowing rights and responsibilities as a citizen, social justice. Appreciate Australia's place in the Asia–Pacific region and the world.
Interdisciplinary Learning
Opportunities for enhancing
Communication skills

ICT

skills
Higher order thinking skills
This material is an extract. Teachers and Students should consult the Victoria Curriculum and Assessment Authority website for more information.
Background Information
top
Artists working in different media have created a visual time capsule showing Melbourne in the late 1800s. The first, an album of photographs by the city's official photographer Charles Nettleton, features Bourke Street, Melbourne, Looking East, an 1878 photograph showing men chatting in the middle of sleepy Bourke Street, while the second, a painting by Tom Roberts circa 1886, shows the same street bustling with pre-Christmas trade. The painting, originally named Allegro con brio, was altered in 1890 when the artist added three figures to the foreground. Aerial maps of the city in the National Library collection show the massive transformation that took place in Melbourne over the fifty years from 1838. The photograph, the painting and the aerial map provide snapshots of early Melbourne, each one supplying information particular to the medium.
This segment presents a variety of photographs and paintings as evidence of change over time. Discuss the strengths and weaknesses of both photographs and paintings as evidence of a place or event in history.
One of the important elements in evidence is the influence of the creator of the evidence. A painter chooses what to include in his or her painting. Does a photographer also influence or choose what is in a photograph and therefore what meanings or messages it conveys? Discuss this idea.
The presenter, Betty Churcher, says of paintings and photographs that 'each supplies information particular to that medium. Each is a time capsule'. Do you agree? Discuss this comment.
Summarise in just one or two sentences why these paintings and photographs are 'treasures' in our knowledge and understanding of aspects of Australian history.