Under One Roof - The Chakos Family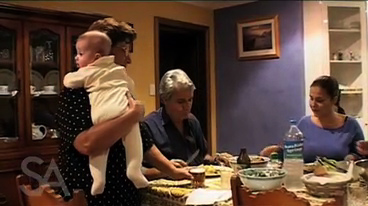 How to Download the Video Clip
To download a free copy of this Video Clip choose from the options below. These require the free Quicktime Player.

Premium MP4 underoneroof_pr.mp4 (13.2MB).

Broadband MP4 underoneroof_bb.mp4 (6.2MB), suitable for iPods and computer downloads.
This is an excerpt from The Chakos Family, the first episode of the 3 x one hour series Under One Roof, produced in 2003. This series takes the viewer into four different family homes and opens the door on contemporary family life. Inside Australian homes, it finds the ties that bind families together and the pressures that pull them apart. While each episode is a discrete, independent story, they all deal with 'family'.
This clip introduces Despina and her family, and gives some background information into their living arrangements and the reasons for them. The failure of the family business created massive debts that required Despina and her husband to sell their home and move in with their daughter Christina and her family.
A Film Australia National Interest Program. Produced in association with SBS Independent.
Students will learn:
how the observational style and other techniques affect the tone of the documentary.
to critically analyse the codes and conventions of observational documentaries
to critically analyse the clip's production values and point of view
to write a magazine article describing the Chakos family
National: The Statements of Learning for English – Year 9
Reading, reviewing and interpreting information and argument texts
Students read and view texts that entertain, move, parody, investigate, analyse, argue and persuade. These texts explore personal, social, cultural and political issues of significance to the students' own lives.
Students understand that readers and viewers may need to develop knowledge about particular events, issues and contexts to interpret texts.
Writing
When students write information or argument texts, they make appropriate selection of information from a few sources and attempt to synthesize and organise these in a logical way.
Students write imaginative texts in print and electronic mediums that contain personal, social and cultural ideas and issues related to their own lives and communities and their views of their expanding world.
This is an excerpt. For further information, please see the National Curriculum Statements for English.
Background Information
top
The family is our most fundamental social unit. It shapes individuals for good or ill, forms our values, our attitudes, our hopes and expectations of life. Families can be dysfunctional and be blamed for all sorts of problems but families can also be supportive, welcoming and warm. Everyone comes from a family and everyone has an opinion about 'Family'.
The Chakos family is a Greek-Australian household in the Sydney suburb of Sans Souci. Energetic 60-year-old Despina is at the family's centre. She runs a weekend plant stall with her sprightly 81-year-old mum, Aphrodite, and cooks fabulous Greek dishes for the extended family that gathers regularly around her table. Dinner is always loud and lively as four generations share jokes, news and opinions.
The Chakos family

View the video clip and write a list of five words that describe the Chakos family.
What values (beliefs about people, culture and life) do you think they share?
List three similarities and three differences between the Chakos family and your family.
As a class, discuss the statement, 'The Chakos family is a strong family because of its Greek heritage.'

Documentary style

How does the observational style(where the filmmaker is invisible) make the clip seem more natural ie like we are watching a real family?
What does the filmmaker reveal to the viewer about the family in the formal interview with Despina? What film technique does the filmmaker use to do this?
View the clip several times and construct a list of all the different shots included egclose up, wide shot of family at table.
Why do you think the filmmaker chose to film at the family dinner table table?

Family stories
Write a 300-word article for 'Family Stories' magazine that describes the Chakos family. Include points about their family unity, struggles, culture and how they get along.