Bruce Dawe - Anti War Poet
Video clip synopsis
– This encounter with highly regarded Australian poet Bruce Dawe allows us an insight into the motivation and methods of a very fine writer. His ability to express the drama and beauty of everyday life has made his work readily accessible to the general public.
Year of production -
1997
Duration -
1min 6sec
Tags -
Australian History
,
conscription
,
heroism
,
historical representations
,
language
,
poetry
,
representations
,
representations of war
,
satire
,
soldiers
,
Vietnam War
,
war
,
see all tags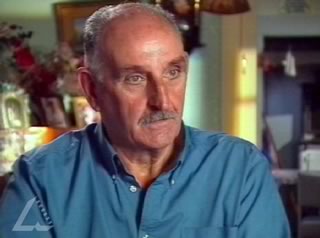 How to Download the Video Clip
To download a free copy of this Video Clip choose from the options below. These require the free Quicktime Player.

Premium MP4 dawepoet_pr.mp4 (8.1MB).

Broadband MP4 dawepoet_bb.mp4 (3.8MB), suitable for iPods and computer downloads.
Bruce Dawe – Anti War Poet is an excerpt from the program Bruce Dawe (26 mins), an episode of Australian Biography Series 6 (6×26 mins), produced in 2007.
Bruce Dawe, born in 1930 in Geelong Victoria, is known as 'The Poet of Suburbia'. His ability to express the drama and beauty of everyday life has made his work readily accessible to the general public. This encounter with highly regarded Australian poet Bruce Dawe allows us an insight into the motivation and methods of a very fine writer.
In this excerpt, the 'anti war poet' Bruce Dawe talks about his relationships within the Royal Australian Air Force during the Vietnam war, a time when he encountered very strong public opposition to his material.
The Australian Biography series profiles some of the most extraordinary Australians of our time. Many have had a major impact on the nation's cultural, political and social life. All are remarkable and inspiring people who have reached a stage in their lives where they can look back and reflect. Through revealing in-depth interviews, they share their stories – of beginnings and challenges, landmarks and turning points. In so doing, they provide us with an invaluable archival record and a unique perspective on the roads we, as a country, have travelled. Australian Biography Series 6 is a Film Australia National Interest Program.
Through these activities, students will:
gain knowledge about and appreciation for one of Australia's foremost poets, Bruce Dawe
enjoy and appreciate poetry as a literary form
consider the role of poetry as a means of exploring and commenting on the world
consider the use of different poetical forms, e.g. free verse, rhymed and sonnet
study closely the use of vocabulary, poetic language, techniques and structure
explore the connections between a poet's biography and their writing
further develop the ability to interpret metaphorical language and satire
compare and contrast the portrayal of the same topic across a range of different texts.
These activities would be suitable as part of a:
study of the works of a single poet, Bruce Dawe
comparison of contemporary and classical poets and poetry
study of texts exploring the themes such as war, violence, courage and the human condition.
Background Information
top
One of the biggest selling and most highly regarded of Australian poets, Bruce Dawe lives an unconventionally conventional life. He grew up in a household where his father, a farm labourer, was often unemployed and often absent from home. His rather eccentric mother longed for the kind of stability and success in life that circumstances always denied her.
Dawe drifted through his early years showing promise as a writer but finding little direction in his life. The variety of his many occupations – labourer, postman, university failure, air force officer, father and teacher – has served to give Dawe extraordinary empathy with people from all backgrounds, which characterises his poetry and gives a voice to so-called ordinary Australians.
After working as a postman, Dawe decided to join the airforce: 'I suppose I wanted companionship more than anything.' It was while working in the forces, that the Vietnam War was fought in the 1960s and early 1970s. The United States of America and its allies (New Zealand, Australia and South Korea) supported South Vietnam against communist insurgents and their North Vietnam comrades. Australia conscripted civilians in 1964 and together with the nation's regular army, they fought at Nui Dat, Phouc Tuy province, Long Tan and in other key locations. As in the USA, many citizens of Australia believed this was not their war, and thus, in 1970, anti-Vietnam moratorium marches began to be held in most capital cities. The people won and by Christmas 1972 the war was all but over.
Based on his own reading and reflection, Dawe was opposed to this war, believing it to be lacking sense historically and ultimately futile. However, he has said that he's not 'an absolute pacifist at all. There are times, I believe, when people have to fight for what they believe, and fight to the point of…even if it means killing somebody else.' His poetry has continued to explore further conflicts and acts of senseless violence, including the massacre of protestors in Tiananmen Square, the bombing of the Sari Club in Bali and the Iraqi wars.
1. Consider the way that Bruce Dawe is portrayed in this interview.
Observe the surroundings in which the interview took place and Dawe's clothing. How does this position the viewer?
Part of Dawe's reputation lies in the impact of his anti-war poetry. Why do you think the choice was made to film him in such a domestic setting?
2. Explore how Dawe's life has influenced his poetry by reading and discussing two of Dawe's poems about war and the military Weapons training and Homecoming.

Weapons training
The poem highlights the regimentation and humiliation dished out during defence training.
Who is 'I'? Is the reader supposed to sympathise with him, do you think
What's happening here? What is the context?
Why is the language clipped, the tone condescending?
What is the purpose of omitting most of the punctuation, including fullstops and capital letters?
What concepts do you consider demeaning to the soldiers and is the speaker's choice of language acceptable in either the armed forces or in civilian life? Why has Dawe written in this way?
The speaker in the poem refers to 'a mob of the little yellows' and the 'Charlies' with their 'rotten fish-sauce breath'. To whom is he referring and why has Dawe chosen language that most people would consider racist and offensive?
Does the opening line set the tone for the poem? How effective are onomatopoeic words 'click' and 'pitter-patter'?
What is the point of the last line and the repetition of 'dead'?
Dawe has chosen to use a regular rhyme scheme for this poem – abba – and finishing with a rhyming couplet. What is the effect of this?
What is the point of this poem? Would you consider this an anti-war poem? Explain.
Homecoming
This poem records the sickening waste of life which resulted from the Vietnam war.
In what sense is the title ironic?
Who are 'they'? Why are 'they' not named?Choose three images evoked by Dawe. What is their significance and impact?
Find three examples of repetition and comment on their use and effectiveness.
What is the purpose of Dawe's lists, such as 'curly-heads, kinky-hairs, crew-cuts, balding non-coms'?
What does the use of 'ing' words throughout the poem achieve?
Why do the 'coasts wing upward'?
Find examples of Dawe's use of simile, e.g. telegrams tremble like leaves from a wintering tree'. What does this add to the poem?
What do the final words '…too late, too early' mean?
Does this work as an effective anti-war poem?
3. Thinking critically
Find and read some of the poems which explore the effects of war and violence in individual lives. These may include:
'Returned men' in Bruce Dawe (1978) Sometimes gladness, Longman Cheshire: Australia
'Phantasms of evening' in Bruce Dawe (1978) Sometimes gladness, Longman Cheshire: Australia
'On the present Chinese government suppression of student-worker dissent' in Bruce Dawe (1990) This side of silence, Longman Cheshire: Australia
'On the shadow of a Japanese child blasted upon a wall after the dropping of an atomic bomb in 1945' in Bruce Dawe (1990) This side of silence, Longman Cheshire: Australia
'After Sari' in Bruce Dawe (2003) Towards a war: twelve reflections, Picaroo Press:

NSW
Each of the poems presented here invites the reader to take up a particular position with regard to war, the military and the use of violence. Do some research on the Vietnam war, the Iraqi war and the Kurdish situation.
What views have been silenced in these poems? Write a response to one or more of them.
Discuss why poets and other artists tend to take an anti-war stance. Can you find examples of pro-war poetry?
English Extension: Literature students may wish to debate the merits of an author-centred reading of these poems. Is it really valid or useful to read the poet's biography in his work? What other reading approaches are evident in the questions pose above?