Bruce Dawe - Anti War Poet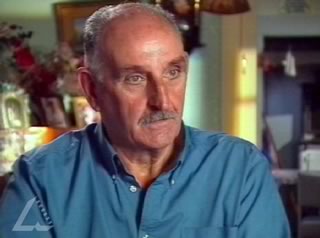 How to Download the Video Clip
To download a free copy of this Video Clip choose from the options below. These require the free Quicktime Player.

Premium MP4 dawepoet_pr.mp4 (8.1MB).

Broadband MP4 dawepoet_bb.mp4 (3.8MB), suitable for iPods and computer downloads.
Bruce Dawe – Anti War Poet is an excerpt from the program Bruce Dawe (26 mins), an episode of Australian Biography Series 6 (6×26 mins), produced in 2007.
Bruce Dawe, born in 1930 in Geelong Victoria, is known as 'The Poet of Suburbia'. His ability to express the drama and beauty of everyday life has made his work readily accessible to the general public. This encounter with highly regarded Australian poet Bruce Dawe allows us an insight into the motivation and methods of a very fine writer.
In this excerpt, the 'anti war poet' Bruce Dawe talks about his relationships within the Royal Australian Air Force during the Vietnam war, a time when he encountered very strong public opposition to his material.
The Australian Biography series profiles some of the most extraordinary Australians of our time. Many have had a major impact on the nation's cultural, political and social life. All are remarkable and inspiring people who have reached a stage in their lives where they can look back and reflect. Through revealing in-depth interviews, they share their stories – of beginnings and challenges, landmarks and turning points. In so doing, they provide us with an invaluable archival record and a unique perspective on the roads we, as a country, have travelled. Australian Biography Series 6 is a Film Australia National Interest Program.
Background Information
top
One of the biggest selling and most highly regarded of Australian poets, Bruce Dawe lives an unconventionally conventional life. He grew up in a household where his father, a farm labourer, was often unemployed and often absent from home. His rather eccentric mother longed for the kind of stability and success in life that circumstances always denied her.
Dawe drifted through his early years showing promise as a writer but finding little direction in his life. The variety of his many occupations – labourer, postman, university failure, air force officer, father and teacher – has served to give Dawe extraordinary empathy with people from all backgrounds, which characterises his poetry and gives a voice to so-called ordinary Australians.
After working as a postman, Dawe decided to join the airforce: 'I suppose I wanted companionship more than anything.' It was while working in the forces, that the Vietnam War was fought in the 1960s and early 1970s. The United States of America and its allies (New Zealand, Australia and South Korea) supported South Vietnam against communist insurgents and their North Vietnam comrades. Australia conscripted civilians in 1964 and together with the nation's regular army, they fought at Nui Dat, Phouc Tuy province, Long Tan and in other key locations. As in the USA, many citizens of Australia believed this was not their war, and thus, in 1970, anti-Vietnam moratorium marches began to be held in most capital cities. The people won and by Christmas 1972 the war was all but over.
Based on his own reading and reflection, Dawe was opposed to this war, believing it to be lacking sense historically and ultimately futile. However, he has said that he's not 'an absolute pacifist at all. There are times, I believe, when people have to fight for what they believe, and fight to the point of…even if it means killing somebody else.' His poetry has continued to explore further conflicts and acts of senseless violence, including the massacre of protestors in Tiananmen Square, the bombing of the Sari Club in Bali and the Iraqi wars.
1. Explore how Dawe's life has influenced his poetry by reading and discussing two of Dawe's poems about war and the military, Show-time (Texas-style) and The Kurdish Rebel. You will need to find copies of these poems.
Show-time (Texas-style)
In later years, Dawe has demonstrated his concerns about the Iraqi war. Here is one example.
Why does this poem include 'Texas-style' in parentheses?
Who is 'me' and who is his 'posse'?
What era of American history does Dawe evoke in this poem? Why?
Why is this poem written in first person with quotation marks around it?
What does the constant use of contractions (e.g. an' or tuckin') and colloquialisms (e.g. critter or varmint) suggest about the speaker?
Who are the 'Afghani critter', 'Pa' and 'Big Daddy-o'?
Why is 'Pa's' failure to finish off Saddam in 1991 described as 'like tuckin' in too much to Mom's home-cookin''?
Unlike the free verse of the other poems, 'Show-time' uses the Shakespearean sonnet form. Identify the features of the sonnet evident in the poem and discuss why Dawe might have chosen this very formal genre. Some research on the form may assist you.
Instead of taking a serious approach to the subject matter, Dawe relies on humour and satire. How successful is this approach in making his point do you think?
Is this an anti-American poem, do you think? Does it matter that Dawe underplays the actions of the 'Afghani critter' and 'Big Daddy-o' that provoked the American responses?
The Kurdish rebel
Dawe has said that he: 'admired people who, in whatever service they were in, in whatever situation they were in, not just the Australian services, fought valiantly. I've admired courage, I suppose, above everything else.' In this poem, inspired apparently by a newspaper photograph, Dawe pays homage to a Kurdish rebel.
Who are the Kurds and against whom were they rebelling in the late 1980s? Has the situation improved for them?
The first stanza of the poem appears to be a straightforward factual description of a photograph. What mood does this set and in what position does it place the reader?
What is the significance of the information given in brackets in the first stanza?
Why does Dawe not provide any detail about the people in the execution squad?
In stanza 2, why the emphasis on 'never'?
Who were More and Stauffenberg? What is the point of drawing these comparisons? Do these seem fair and reasonable comparisons to you?
What does Dawe mean the rebel 'has stood there years already/ having, in the evil day, done all he could'?
In the third stanza, does Dawe mean that the rebel has literally 'grown even taller'? Explain.
Dawe has been labeled an anti-war poet. However, does this poem support that assertion?